Theresa & Tom Priddle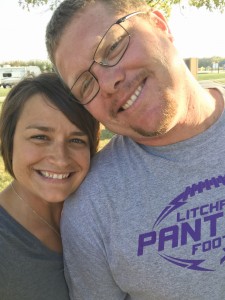 We are super excited and honored to be chosen as an SOC 2018 celebrity couple! Just to tell you a little about us…We both are former Toppers who have made the move across the creek and now are proud Purple Panthers! Tom actually just finished his first year as head football coach here! We have both worked in the emergency services field for over 17 years. Theresa as a paramedic with Hillsboro Area Ambulance Service and Tom as a firefighter/paramedic for Litchfield Fire Department. We have been married for 11 years and have 3 beautiful girls..Courtney, a freshman at ISU. Andrea, who's in her senior year at LHS and Charlie in 5th grade. We have a passion for helping others, especially those battling cancer. Everyone knows someone and sometimes it hits too close to home. Tom's Mom is a two-time survivor. Theresa's grandmother fought breast cancer.. And of course, our little friend Faith. She is the inspiration behind #faithsentus, an organization founded on the premise of spreading kindness and helping other sick kiddos in our community.  Thank you again for this honor! Let's have some fun!
Brittany Ronco & Jessica Vickery
Brittany is the daughter of Susan Laird and "late" Todd Laird.  She is a secretary at Litchfield High School. Brittany has been married to her husband Josh for 1 year.  Brittany has a beautiful daughter Payton (4) and two stepsons, Brayden (10) and Bentley (8).  She enjoys times with family and friends, working out, boating with friends, and decorating her house. Brittany will be performing in honor of her Mother, Susan who is a 15 year survivor of Ovarian Cancer.  
Jessica is the daughter of Jerry and Donna Bradburn. She has been happily married to her husband, Michael for 14 years. They have two beautiful daughters, Kaia (10) and Amari (9).  Jessica is a graduate of Litchfield High School and returned to Litchfield after college to make a home. She is the owner of Petal Pushers in beautiful downtown Litchfield. She also serves as the Litchfield Chamber of Commerce President.  She enjoys spending time with family and friends, the great outdoors, and traveling.  Cancer has affected several of Jessica's family members and friends; from breast cancer, skin cancer, and throat cancer.  Everyone has ties to Cancer, it's a horrible disease that many in our community are fighting. Jessica will be performing in honor of her late best friend, Bethanie Gasperson, who recently lost her battle to Stage 4 Breast Cancer, Invasive Ductal Carcinoma. 
Team Ronco/Vickery Facebook Page
Cody & Kelby McCoy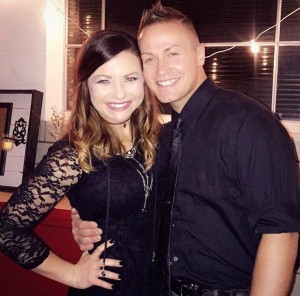 Cody & Kelby McCoy were both born and raised in Hillsboro. They have been married for almost four years and have two bulldogs, Henry & Herman. Cody is employed by Montgomery County Sheriff's Office as a Correctional Officer. Kelby is employed by Hillsboro Community School District at Beckemeyer Elementary, in the computer lab. Kelby is also a full-time student, working towards a bachelors degree in elementary education. The McCoy's have had at least one Stamp Out Cancer event every weekend since fundraising started. They completed total of twenty-two fundraising events. They have sold cinnamon rolls, t-shirts, a quilt, a gun, & handmade ornaments. The McCoy's have hosted a Christmas extravaganza, boot camp with Team Fit Bodies, wine glass painting with Soul 73 Graffiti, Valentine's Day mini photo shoot, bowling bash, and a carry-out soup lunch. They packed the place at Gianni's, the Moonlight Y, Mulligan's Lakeside Restaurant, the Canton Inn, & Lomas Del Sol. Cody & Kelby also bartended at Cobetto's, Hamby's Saloon, Lemos, Courthouse Pub, & the Moose. The McCoy's are always looking for a good time, especially when it is for a good cause. Unfortunately, cancer is no stranger in either of their families. They are performing in Stamp Out Cancer 2018 in loving memory of: Holly Harvey (Kelby's Stepmother), Shirley Keiser (Kelby's Grandma), Harrel McCoy (Cody's Grandpa), & Vina McCoy (Cody's Grandma). The McCoy's have enjoyed giving back to the community and MCCA for their continuous kindness and support for their loved ones. Cody & Kelby would like to sincerely thank each and every individual, friend, family member, & business who have generously supported them during the Stamp Out Cancer season.
Russ & Keri Foster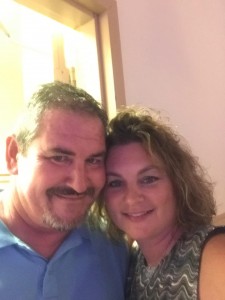 Russ and Keri Foster have been happily married now for 6 years and together for 8.  The have 7 kids between them, a son in law, and a 2 month old granddaughter.  Russ is self employed, owning 4J Concrete for almost 20 years.  Keri has worked in the medical field for 20 years, with the last 13 years working as a certified medical assistant with Colon Rectal Surgeons.  Keri is passionate about fighting cancer as she has lost several family members to several different cancers.  They recently found out that Russ's father has been diagnosed with stage 4 lung cancer.
Greg & Gaye DeRight
Greg and Gaye live in Hillsboro  and have been married for 30 years. Together they have three sons – Jake, Travis & Vince and three grandchildren – Kinley, Lauren & Hank. Greg has been actively involved with Stamp Out Cancer from the beginning helping out by emceeing for this great group who work so hard each year to host this wonderful event. They are blessed to have family and friends who have survived cancer. But, like so many others, they, too, have lost loved ones. They are performing to honor Daryel DeRight  (Greg's Dad), and Barbara DeLuka, Tjody Thieret and Ron Wygal.