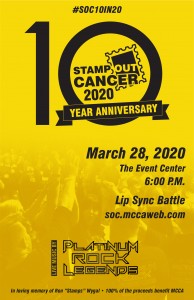 It was a wintry January night at the Hillsboro Country Club. The year was 2011. Nobody was quite sure what to expect but there was a buzz in the air. People flocked from all around to fill the building, both inside and out. Good times were had and money was raised. Stamp Out Cancer was born.
Fast forward a decade later and SOC has grown into an annual event that is looked forward to by the county. The same premise still applies . . . . let's have a ton of fun and raise a bunch of money! Over $500,000 has been raised for the Montgomery County Cancer Association over the years!
Stamp Out Cancer 2020 is looking to add to that total. The event will once again feature a "Celebrity Lip Sync Battle" and have an awesome silent auction. Returning to the stage to provide the entertainment will be Platinum Rock Legends! If you didn't catch them two years ago we're sure you heard about them. They're the real deal!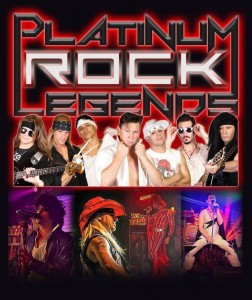 Stay tuned for more information regarding the event but be sure to mark your calendars! Tickets go on sale February 1st and we're looking to sellout that day once again.
The SOC committee is Renee Laughlin, Dana Holshouser, Kelsey Flack, Cory Evans, Heather Greenwood, Chris Wygal, Michelle Hill, Theresa Priddle, and Zach Wygal.
Be sure to follow us on Facebook!
www.facebook.com/stampoutcancer
Thank you for your continued support!
In loving memory of Ron "Stamps" Wygal